As opposed to other ordinary knife sharpeners, the main attraction of a pocket knife sharpener is pretty obvious – you can easily just stash it in the insides of your pocket or bag pack and carry it around.
In a word, a pocket knife sharpener is portable. Sailors, geologists or anyone often engaged in outdoor or field activities, having pocket knives and pocket knife sharpeners come in handy. Of course, buying just any type of pocket knife sharpener is not recommended.
Like most products, it is important to browse through different offerings before finding one that suits you best. Following are some of the most popular brands of pocket knife sharpeners out today.
Wusthof 2899 2-Stage Pocket Knife Sharpener
Wusthof 2899 2-Stage Pocket Knife Sharpener not only restores an already dull knife but also provides fine-tuning or maintenance services to an already sharp pocket knife. The model comes with two slots: the Course/Carbide and the Fine/Ceramic.
The first one takes care of an already abuses edge while the second slot hones the blade into hair-splitting perfection. The great thing about this model is that it can easily fit in a person's and even comes with a key chain to keep it on hand at all times.
Rubbers are also available, ensuring that the knife remains steady while being honed. The unit is ideal for fishermen, campers and hunters.
Lansky Quick Fix Pocket Sharpener
Quick Fix is a combination of tungsten carbide and ceramic: the former for sharpening the blade while the latter for smoothing the edge, resulting to a 'quick fix' of your dull knives.
One of its features is that on the reverse side, there is a ceramic polishing stone placed in a similar angle to the carbide stones, ensuring that the blade is sharpened to perfection.
It features a rubber grip, allowing users to hold the item firmly in their hands without the fear of slippage. The model's weight is also negligible, as little as 1.6 ounces for easy transportation.
Gerber 04307 Coarse/Fine Pocket Gerber Knife Sharpener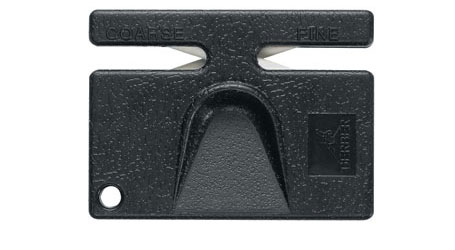 This product is made of molded plastic and weighs not more than an ounce and only 2.75 in length. It has two sharpening surfaces. On one side of this pocket sharpener is a coarse ceramic stone while the other side has fine ceramic.
The two are specially positioned to serve the blade best, the first one mainly for sharpening while the second will smooth out the steel for seamless cutting.
As previously mentioned, the Gerber 04307 is remarkably small but still efficient. In fact, the model may well be a key chain and is idea for frequent travelers.
Pocket knives are crucial for those who usually find themselves working in the field. Even those who are at home utilize pocket knives to perform simple tasks. Like most blades, pocket knives are best used when utterly sharp in order for them to make most jobs easier.
With a pocket knife sharpener, campers, fishermen and sports enthusiasts can use their pocket knives every time without worrying about dullness.